Disability, in a broad sense, refers to a condition that limits an individual's ability to perform certain activities or tasks typical for their age. This can result from a multitude of causes including accidents, chronic illnesses, or other health conditions. For our purposes, we're primarily focusing on disabilities that affect a person's ability to work.
The prospect of becoming disabled might not be the first thing that comes to mind when thinking about the uncertainties of life. However, statistics suggest that it's a far more common risk than many people realize. This post will delve into the statistics and data surrounding the likelihood of disability during working years.
Statistical Likelihood of an Individual Becoming Disabled During Their Working Years
Leading Causes of Disability
It's helpful to know which conditions or factors most commonly lead to disability
Musculoskeletal Disorders: Conditions like back pain, arthritis, and other musculoskeletal issues are among the top causes of long-term disability.
Cardiovascular Diseases: Heart disease and stroke can lead to prolonged disabilities.
Mental Health Issues: Depression, anxiety, and other mental health disorders can be debilitating for many.
Cancer: Though many cancer patients return to work after treatment, some face long-term disabilities.
Injuries: Accidents, both on and off the job, can result in temporary or permanent disabilities.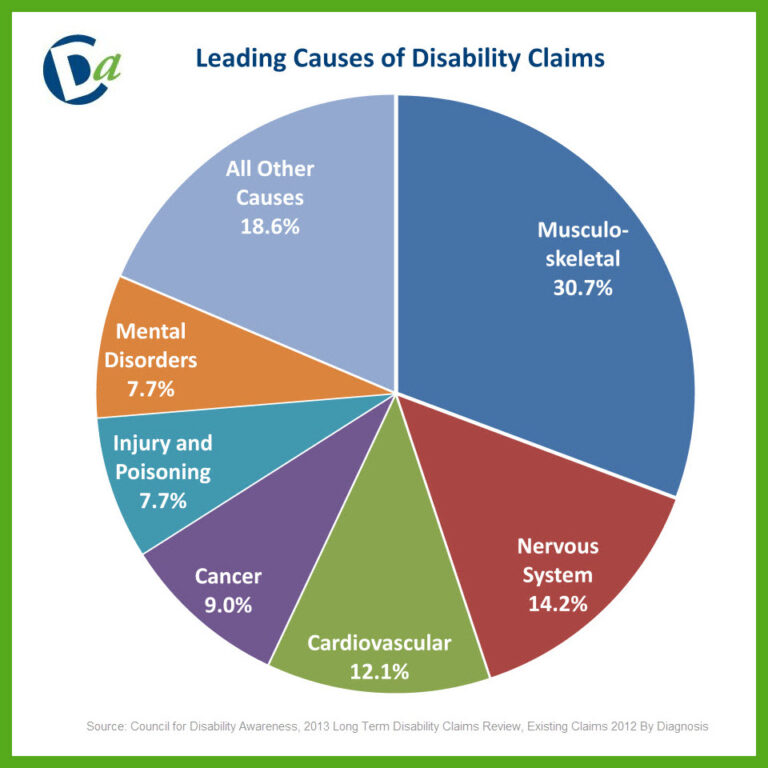 The Impact of Age and Lifestyle
The risk of disability grows with age. While a young person might be more likely to suffer a disability from an accident, older workers might face increasing risks from chronic illnesses. Lifestyle factors, such as smoking, obesity, and high-stress levels, can also increase the risk.
The Duration of a Disability
Even if someone does become disabled, it doesn't necessarily mean they'll be out of work indefinitely. The Council for Disability Awareness has noted that the average long-term disability claim lasts for around 34.6 months. This means that many individuals may be able to return to work after their disability, especially with appropriate support and rehabilitation.
Protecting Against the Risk
Given the statistical likelihood of facing a disability at some point during one's working years, it's prudent to consider protective measures:
This insurance provides a portion of your income if you're unable to work due to a disability. There are both short-term and long-term disability insurance options available.
Having a financial cushion can be invaluable if you're sidelined from work.
Reducing risk factors by maintaining a healthy lifestyle can decrease the chances of disability
"Most people think, 'It will never happen to me,'" says Valerie.
As we reflect on the realities and statistics of disability presented in this blog, it becomes evident that the unexpected twists of life are not just distant tales but realities that could be just around the corner for any of us. Behind each percentage point or statistic, there are real people—individuals who once had plans and dreams that didn't account for an unexpected disability. Many of us continue our daily lives with an optimistic outlook, believing that adversity strikes only others, not us. Yet, the numbers don't lie, and they remind us that we are all vulnerable.
This isn't meant to paint a bleak picture, but rather to emphasize preparedness. Just as we insure our homes against fires or our cars against accidents, it's crucial to think of disability insurance as a protective shield—one that ensures our financial stability and offers peace of mind in the face of life's unpredictabilities. Disability insurance isn't just about safeguarding our income; it's about ensuring that we, and our loved ones, can continue to live with dignity, security, and a semblance of normalcy even when life throws us a curveball.
At Ezdiquote we truly care about you and protecting what matters most to you, please visit us and we will partner with you to make sure you are protected!